Cocktail parties are one of the greatest ways to socially mingle with one another, whether it is friends or family or business associates.
Organizing a successful cocktail party is not exactly rocket science. What you need is a little spark of creativity and some amazing mouth-watering food, and let's not forget the cocktails – it's a cocktail party after all.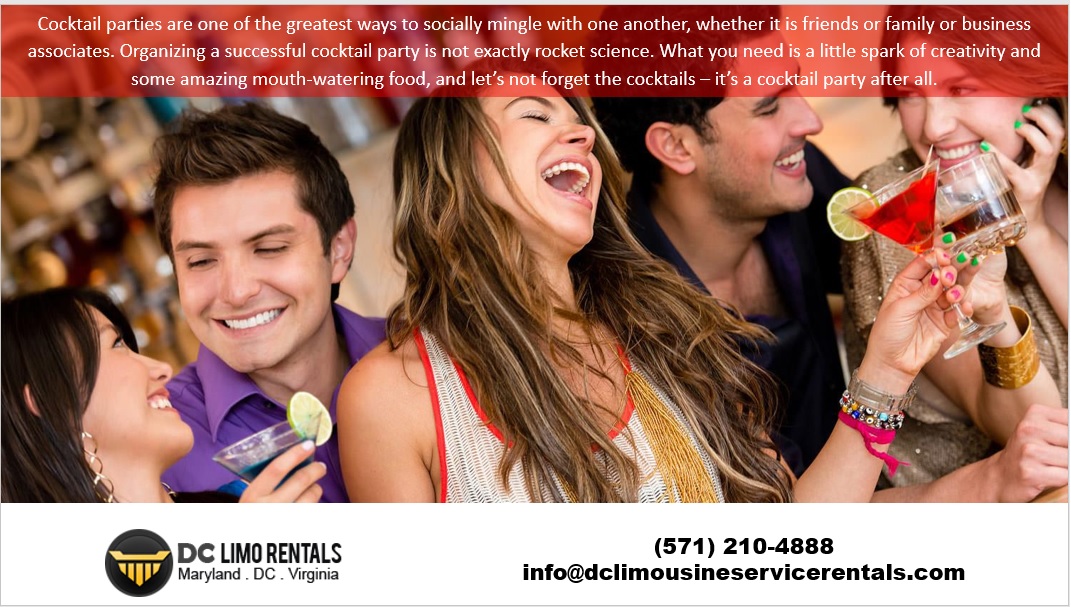 This post talks about all you need to know to host a cocktail party – whether it's a mixer as a business event or just a means to entertain your friends.
The Party List
Okay, first and foremost, you need to make a list of everything related to your party. Answer questions such as:
What is your budget for the party?

How many guests are coming over?

How many food items are you going to serve?

Will transportation be provided to your guests?

A themed party – yes or no?
The Menu
You have free reign in this aspect unless you are planning a themed cocktail party.
Almost anything can be made to fit in bite sized portions such as soups in shot glasses or mini- burgers and pizzas. In this world wide web of technology, you will find thousands of recipes that fit your bill, but keep in mind not to experiment with food at the time of your party.
The Cocktail Bar
You can pick your choice of bar from the following:
Signature Bar – for one or two mixed drinks
Themed Bar – one liquor and many mixers
Full Bar – wide assortment of liquor as well as mixers
Some Friendly Advice
Heed the following tips if you want your menu to be appetizing and delicious, making your guests reminisce your party after months or even years!
Always keep some dishes with vegetarian options

In case you run out of food, stock up on olives, nuts, crackers, dips, nachos and bread sticks

Set up your snacks early and keep hot food hot
If you want to arrange transportation service for your guests, contact us for Washington DC limo service. We also offer leisure travel in our DC limousine service which will be sure to add a flare to your grand party!